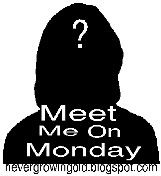 23rd round of questions posted by
Java.
1. How many pillows do you sleep with?
Just one but sometimes I cuddle with my husbands after he goes to work. :)
2. Where will you eat on Thanksgiving?
At my kitchen table. With my little family! :)
3. Would you rather go to a party or host a party?
I would rather attend a party. Had we a bigger house, I would host.
4. How many purses (for the guys..wallets) do you own?
I have no idea! More than 5. Less than 10. No brand names though, although I'd like to have a good, sturdy purse.
5. What is your favorite kind of seafood?
Not a fan of seafood.