Weekends are a bit like
r
a
i

n

b

o

w

s

; they look good from a distance but disappear when you get up close to them. ~John Shirley
Boy isn't that the truth! We always look forward to the weekend but it never does last long enough!
Okay, so on we go to the Friday fun! First up is Five question Friday.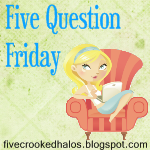 1. What is your current favorite book and why? As of now, I am not reading anything. Truth be told, I haven't read anything in quite some time. The last books I had were the Twilight Series and well, since I'm already being honest, those were the ebooks so...it was cheating...does that count?
2. Do you go to the dentist regularly?Yeah.....well, um....No. You see, I don't have the best excuse. Okay, okay you got me....I don't have an excuse.
3. What is your worst memory from high school? I don't really have a bad memory from high school. Apparently I didn't have a traumatic ex
perience or I'd have remembered it right? I guess my answer to this one (simply because I don't want the headache nor do I have the time to think hard and long on this) is going to have to be that I was quiet and shy. I never tried out for sports or clubs. I wish now that I had though.
4. What do you hope to be remembered for in your life? Gee, this one isn't the easiest either. I want to be remembered as a good mother &
wife. Someone who loves her family but doesn't give a crap what people think of me. Contradicting? Eh, well. While I want people to like me, I will not go out of my way to make them like me. Take me as I am. You don't HAVE to li
ke me. And I don't HAVE to like you.
5. Are you superstitious or do you have any superstitions? (I feel like I have recently answered this question on the blog...) I used to be superstitious. But not anymore. I don't like when a mirror breaks, but really, who wants to clean
up all that mess??
And now I will tell you about the five things that I am most thankful for from this week. Which means it is time for Friday's fave Five. You can link up on Susanne's page.
Don't you just love this cool, wintery photo?
1. First thing on my list this week-car wash! The crows/black birds here have gone NUTS on our van! My poor kid yesterday was embarrassed when I dropped her off at the bus stop. Everyone made fun of her...even though it was beyond her control. Cruel kids!
2. Blog friends. There are people here that I have never met face to face but you are all so wonderful! The stress relief of this blog has be
en wonderful!
3. Another thing that has helped me curb my stress and keep my mind-dr. pepper. Some people drink liquor, some have their crack addictions, some smoke. Me, I need dr. pepper. Got.to.have.it!
4. Chocolate-see number three for reasons
5. My husband. He makes my list many times, however, this week when I wasn't feeling so hot he left work to come take care of our son. I still don't feel up to par. But feel better definitely. And guess what? He called into work sick today
! Poor guy has been sick all morning!
Hope you all have a fabulous Friday!
And don't forget to link up!