Hello Friday! So nice of you to join us again!!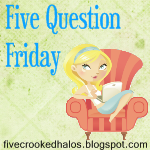 1. Have you ever had surgery? Nope.
2. Ever ride in an ambulance?Uh uh.
3. How are you in a medical emergency? Panicked? Calm? I've never really been in a medical emergency. I'm sure while deep down I'd like to panic, I could probably find the calm during the chaos.
4. Do you have a garden? Flowers or veggies? No. Sadly.
5. When did you move out of your parents house? I was 20 years old when I moved out.