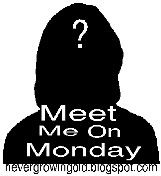 Meet me on Monday Questions:
1. What are your New Year's Eve plans?
I
We have no plans for New Years. We never do anything for New Years.
2. How tall are you? 5 feet even :)
3. What is your favorite pudding flavor? Vanilla or Tapioca. Or if I'm going with the ready to eat....any of the yummy flavors. I have a super, uber, humongous sweet tooth so they are all delicious to me. Yum!
4. What room of the house do you blog the most in? Living Room-where my computer is.
5. What is your best physical feature? Hmmm...eyes???

I've posted this photo on the blog before but this is it's first appearance on MYM.


Are you relieved or sad that Christmas is over? I've got mixed feelings on it. Here's to a great Monday for everyone! ((Raising glass for a toast!))